Handful of Leaves and Kusala Mag are in collaboration to share Inspiring stories sprinkled with Buddhist wisdom. Kusala Mag's interview with Siha the Wise is reproduced in full here:
In Buddhism, happiness is something that comes from within – something that is innate. For Siha the Wise, posts on Instagram are tailored to convey a message of fundamental Buddhist teaching or precept to its viewer.
Siha the Wise seeks to explore and find the true self and inner peaceful and mindful being through the artworks. Each of the pieces is handcrafted, carefully thought out and calibrated to invoke a sense of meaning and purpose to its viewer (whether they be Buddhist or not).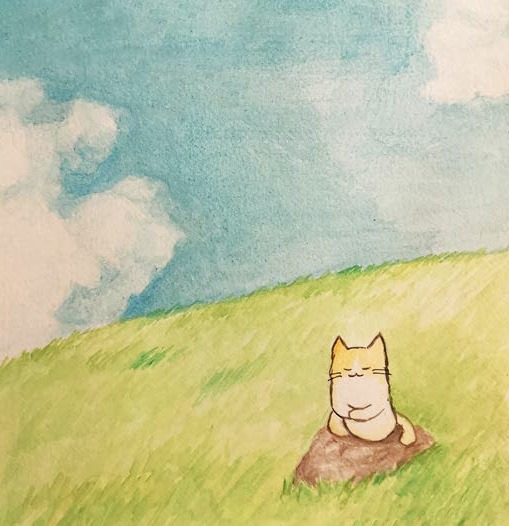 When and how did you first started illustrating?
I graduated from animation school, so I do paint once a while as a hobby. Drawing comics is my first attempt.
Tell us more about Siha_the_wise and how did it get started?
It was about two years ago when my Japanese friend wanted to know more about Theravada Buddhism. I had just adopted my cat, Siha thus I thought maybe I can draw my cat explaining Buddhism. Thus I tried to draw in comic form to portray the Buddhist concepts and hope people can easily relate and understand.
What is the motivation behind Siha_the_wise?
The main motivation is to remind myself of the teachings. It will also be good that others can enjoy learning the dhamma together. In this current social media era, there is a lot of unnecessary and unwholesome information. I hope my comic can help contribute some goodness to people using social media.
Is illustrating a kind of mindfulness practice to you? Tell us more about your thought processes while illustrating!
Yes, in a way. Whenever I'm drawing a comic, I will try my best to make sure during the whole period, my mind is wholesome and peaceful.
Often it is about an incident, something I read or something that occurred to me. I will contemplate on the issue and also dig up the suttas and talks and everything I can find on that issue. With that, I try to use everyday examples and show how I can use Buddhist practice to overcome these issues. After doing my part, my friends will translate them into other languages such as Japanese and Indonesian.
Is illustrating beneficial to your mental health?
I believe so. I try to be in a wholesome mental state whenever I draw the comic.
Tell us about one of your favourite illustrations and what it meant to you?
It will have to be the one titled «a meaningful life». It totally changes one's outlook in life. It is a constant reminder to myself about what truly matters in life.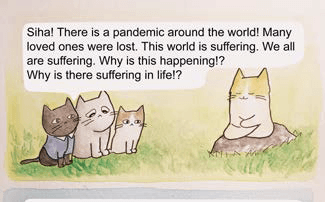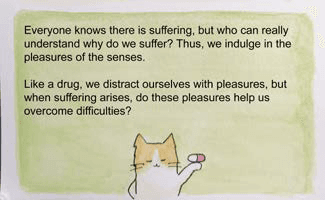 Do you feel like illustrating Siha_the_wise helps you understand the Dhamma more in-depth?
Yes! For every post, as I mentioned before, I will need to make an in-depth study. As I am also taking a degree in Buddhism, and sometimes it is quite dry, I try to find ways to implement the Dhamma into everyday life.
More and more people are using art as a therapy, do you see it as a hobby or therapy?
I believe it can be both. But when one truly paint stroke by stroke with compassion and with no unwholesome thoughts arising, I think it will be good therapy for the mind.
What does art mean to you? Do you think learning how to draw or illustrate is good for everyone?
I am more of a visual person. I solve or understand problems by visuals. I cannot say whether it is good for everyone, but art and creativity helps me a lot.
As a Buddhist, is there any commonality you can find in Buddhism and illustrating?
The first thing I think is that there has to be patience. I think the goal is also not so important, more important is the process and journey.
Do you face any challenges in any of your crafting projects? If yes, can you tell us how you overcome it?
The most difficult challenge is still in the mind. Once a while, when drawing the comic, greed, doubt or anger arises in my mind. These unwholesome thoughts undermined my compassion and kindness. Whenever such thoughts arise, I will always calm myself down and think about the qualities of the Buddha, how Buddha will react if he faced the same situation.
Therefore, right in the beginning, I try my best to be anonymous by using a pseudonym. Always trying to see there is no self. To truly draw out of compassion to help myself and others.
---
Alternatively, hop over to Kusala Mag for more of such amazing stories!