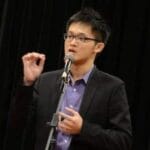 Haow Ming Khor
Starting his Buddhist journey with Buddhist camps and activities, Haow Ming is currently a member of Nalanda Buddhist Society Malaysia. He hosts weekly youth programmes and takes on the occasional emcee role. Beyond his work in the real estate industry, he volunteers as a teacher for online Dhamma children classes.
Fishing for love on Bumble/CMB/Tinder?
Can love be more realistic? Netflix's Love Hard pushes us to reflect deeper.